IMAX FILM - "OCEANMEN"
Directed by Bob Talbot
Assistant Director: Mark Robinson

Filmed primarily in the waters off New Providence Island in the Bahamas, the IMAX movie OCEANMEN explored the lives of two men -- each attempting to set the world record for the deepest dive on a single breath of air.

Working as the Assistant Director:
• Supervised the design and construction of the floating studio aboard a 100-foot barge in Nassau Harbor.
• Coordinated a large fleet of camera and picture boats in open ocean conditions.
• Scheduled and orchestrated detailed underwater filming operations at extreme depths.
• Responsible for overall safety of underwater actors and crew working in open ocean/deep diving conditions.
• Utilized advanced freediving skills in order to access underwater set repeatedly throughout each shoot day at depths to 150 feet. Other crew members using compressed air were restricted to one or two dives per day due to gas laws that required careful monitoring and decompression.
• Orchestrated underwater filming of shark feeding scenes.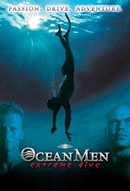 CLICK HERE FOR MOVIE REVIEW.